South Korea is Asia's second-biggest developed economy with a large and deep real estate market that has been difficult for institutional investors to access until recently. Large amounts of real estate remain in the hands of corporate owners and large domestic pension funds. REITs currently only represent 0.2% of the market capitalisation of the KOSPI, and private REITs have dominated the market. By contrast, public REITs in the U.S. are approximately 6% of the U.S. market cap, and in Japan, which only started in the early 2000s, the value is now approaching 4% of its nation's market cap.
However, things are changing with the support of government policies to encourage public REITs. We have witnessed several new listings, including Lotte, Shinhan, ESR and most recently, SK Corp. In addition, speaking to one REIT manager in South Korea, they indicated that the country's pension funds are also interested in the space. While there have only been a few IPOs and secondary offerings, all the main listings have been successful, which has helped to build a track record. Indeed, SK REIT, the most recent REIT IPO, had surged almost 30% since its listing last month. There are potentially several more K-REITs to list in the coming year, according to investment banks.
One major catalyst for Korea's public REIT market was the introduction of initiatives to promote the sector by the government providing deferred capital gains for investment in kind into public REITs, tax breaks for individual investors and encouraging REIT formation by sponsors by easing some restrictions and allowing for up to 50% ownership. They have also relaxed listing rules to make REIT IPO approvals easier. While still a small market capitalisation and far off the radar screen of most investors, the sector has started to grow.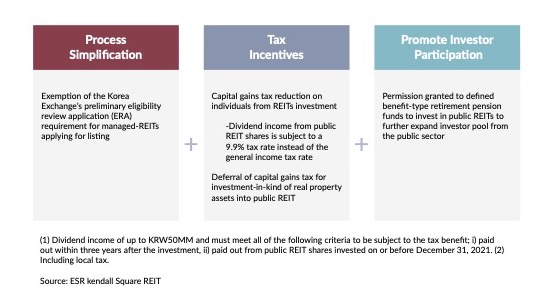 Foreign Holdings Rising
The successful and strong performance of Shinhan Alpha REIT, Lotte REIT, ESR Kendall Square REIT and recently SK REIT showed that there is an appetite from local and increasingly foreign investors. Foreign ownership was negligible until the IPO of Lotte REIT. However, foreign holdings have now risen in the last two years to roughly 450 billion won (US$383 billion) via investments in Lotte REIT, ESR Kendall Square and Lotte REIT's rights issue. This number will again grow as ESR Kendall Square has announced a rights issue to fund major acquisitions and is likely to be the first Korean REIT to be included in the FTSE EPRA Nareit Developed index. Given the attractive dividend yields in the Korean REIT market with high-quality commercial assets, there is no reason that Korea could not achieve similar successes observed in Japan and Singapore over the last two decades.
Lengthy Secondary Offering Process
One impediment we see to the sector's growth is the complicated secondary offering process that REIT must go through to raise additional equity to fund acquisitions. The Lotte REIT rights issue's process was long, and almost four months passed from the date of the announcement of its intention to acquire assets from the sponsor and the rights issue pricing.
This led to an overhang and unit price erosion which did not benefit existing investors. Most developed markets in Asia have more efficient secondary offering processes, normally conducted via placements that limit the market risk to the issuer and price erosions created by the overhang. We are hopeful that the regulator, namely the Ministry of Land, Infrastructure and Transport (MOLIT), will examine capital raising practices in other Asian markets and look to ease this to improve the attractiveness and growth of the sector. We are also hopeful that large Korean corporations will consider REITs as a means to improve balance sheet efficiency, thanks to the recent listing success of Lotte REIT and SK Corp.
While we do not expect the market to grow overnight, there have been many positive steps in the last few years that have started South Korea on the path towards having an investible REIT market. Not including the recent SK Corp IPO or ESR Kendall Square rights offering, the public REIT market has grown at a 168% Compound Annual Growth Rate (CAGR) from 2017-2020 to 7.4 trillion won but remains small compared to the private REIT market in Korea.
We hope that domestic institutional investorsand pension funds look to diversify their real estate investments from private vehicles to listed public REITs. According to one REIT's management, they believe this is starting to happen on a small scale. It took some time for the J-REIT and S-REIT sectors to grow after their respective first listings of Nippon Building Fund, Japan Real Estate, CapitaMall and Ascendas REIT, but their successful growth in the early years attracted other listings and helped expand both markets into leading global REIT markets. We hope the recent IPOs and follow-on raises by Korean issuers will trigger the same result.